Archive for August, 2010
Be deliberately efficient or deliberately Zen.  Never be arbitrarily inefficient.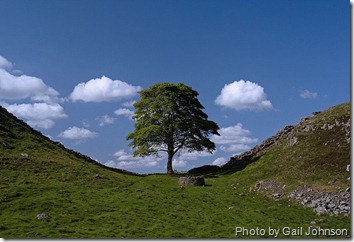 I tweeted a version of that a few days ago and it pretty succinctly sums up my approach to "time management".  In essence, it's saying do what you do and be 100% there… and do so in a way that isn't randomly wasting precious time in the present moment due to sloppy planning or weak preparation.
How much downtime did you have today if you counted up the minutes?  10 minutes, 60 minutes, more?
If your house is in order you can use every minute to your advantage, whatever that means to you at that time.  You aren't passing up the opportunity to use that time just because you don't know what's next or what you need to do – you can just seamlessly move from one thing to the next at a deliberate pace doing high-quality work or enjoying needed downtime.
Ultimately this approach goes back to having the right system for knowing what the open threads are in your life.  Getting Things Done by David Allen is one such system, hugely popular and very common sensical and intuitive, but there are others.  Assuming you're already on your way to productivity black belt status and at any given moment can identify what you need in the moment, one of the best things you can do to act on this data is to start living in the gaps.
Gaps are those small 5-30 minute "in betweens" throughout the day that offer you some level of personal sanctity.  They're part of your daily rituals – your commute, an afternoon walk, a 20-minute wait in the doctor's office, time between meetings, the 30 minutes your spouse or partner is watching the kids, and so on.  They're time periods in which you could choose to be productive or time you could use to disconnect and recharge.  Ultimately it's up to you how you use it.
Ed. Note: Sorry for the lack of activity lately.  We've had the trifecta of big change around here requiring a shift in my focus: new baby, new job, and new house.  Which means my normal writing time (during kid #1's Sunday naptime) is no longer tenable.  I suspect my writing will be spaced out for a bit while I find a new rhythm, but it's not going to stop!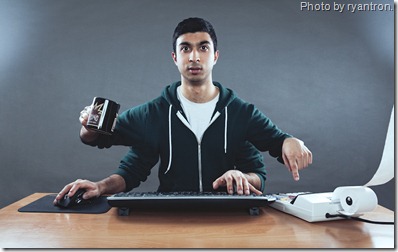 If you're reading this blog, chances are you fall into one of two camps:
You think you're a great multitasker and thrive on juggling a million complex tasks at the same time
You know better
Folks in camp #2 should probably just move on to reading something else (here are some recommendations!)  If you're in camp #1, I'd love a demonstration 😉
Multitasking is a catch-all phrase that's used for a lot of different work styles and concepts.  First a few words about what it isn't.
Multitasking isn't having different areas of focus (family, career, health, and so on).  Multitasking also doesn't incorporate doing unrelated (or somewhat related) things at different times of the day (moving from email to meetings to writing to reading).
Both views of multitasking are fine in that they're normal behavior; stuff you won't get penalized by the efficiency gods for excelling at.  If you didn't have different areas of focus, you'd be a robot, a dog, or a Perl script without any emotional attachment or ability to "let go" of a single area.  And if you weren't able to switch tasks to some degree throughout the day, you wouldn't be the least bit effective at work or at home.
We need to be flexible, but we also need to be focused.  And like most things in life, there's a fair amount of nuance in there.