Archive for the 'Bruce Lee' tag
Happy first birthday Refocuser!  Check out the "best of" page for some fun posts after reading this.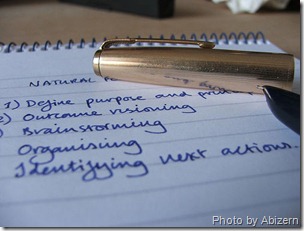 So much has been written about the Weekly Review as a part of David Allen's Getting Things Done (GTD) system that it feels sort of ridiculous to even entertain writing about it.  I pride myself in making this blog different – not just another GTD/life hacks wannabe poser blog thing – but at the same time, a lot of the best practices in productivity fit under the GTD umbrella.  So there will be times I feel compelled to write about GTD in all its glory.  This is one of those times.
If you're new to GTD, this post really isn't the best place to start as it's only covering a small piece of what GTD is all about.  You should dive in and read the official book.  If you're the type of person who can't stay on top of the most important things in your life, you won't be sorry.
First a few words about GTD.  GTD isn't a panacea by any means.  It's just a framework for "thinking about thinking".  It's updated software for your brain that will help you make sense of all the inputs and outputs in your life.  It's also a set of habits that for some people can be hard to get into, because they require a change in behavior.  But hey, it's ultimately just "advanced common sense" as David Allen puts it, so there's really no excuse for not giving it a shot if you feel you need it.
The funny thing about GTD is that people tend to get so fixated on the "how" and not on the "why" of the system.  Whether you use post-it notes, Microsoft Outlook, a Moleskine notebook, or your pet hamster to track your work isn't the important thing – the system is adaptable and should be used in the way that works best for you.  In other words, the implementation details aren't what matter, but the way the system is used at the macro level does.
In a lot of ways this reminds me of Bruce Lee's unique approach to fighting, Jeet Kune Do.  Stay with me for a second; other than just being three-letter acronyms, JKD is actually quite similar to GTD.  One of Lee's most famous quotes about JKD is:
I don't believe in different ways of fighting now, I mean, unless human beings have 3 arms and 3 legs – then we will have a different way of fighting. But basically we all have two arms and two legs so that is why I believe there should be only one way of fighting and that is no way.
In other words, there's a reason why the best fighters in the world learn to throw a jab and execute a choke the same way.  While there are subtle differences in their own personal styles, and certain techniques that work best for some people, they're still fighting using the same basic systems.  Chokes may be executed a little differently from person to person, but there's a "right" way to choke that everyone starts with. 
GTD is the same way.  There are differences in people's approach to GTD, but the foundational physics of the system are the same.  Show me a super-productive person and I can point out how that person is implementing GTD – even if they don't know it.  It may not look exactly like the next person's GTD (just like fighting) but the core pieces are almost always there.  And if they aren't, well, there are likely improvements to be made!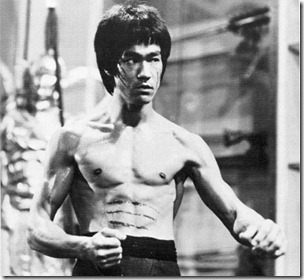 One of my favorite quotes from Bruce Lee: efficiency is anything that scores.
It's simple, direct, and to the point – just like Bruce Lee's approach to martial arts, Jeet Kune Do (JKD).  Much has been written about Bruce Lee and JKD since his death in 1973, and just about as much has been misinterpreted, twisted, or otherwise confused.  But one overwhelming and indisputable fact remains: Lee believed that the "classical mess" of traditional martial arts were a hindrance to personal growth.  Specifically the focus on form over function, or system over person.  The individualism of the individual was blanketed by the dogma surrounding them; in order to become self-actualized, a person is required to break free of the trap of limited thinking and find their own path.
This thinking transcends martial arts – it's applicable to most aspects of life.  But before going further, let me explain this in a little more detail.  Let's start with two men, both of them physically fit, intelligent, and interested in martial arts.  These two men for the purposes of this exercise are equivalent; one isn't more genetically gifted than the other.  And drive, desire, and the necessary emotional intelligence are present in both of them.  But both are training quite differently.  Of course this example works just as well with male OR female protagonists, I just didn't want to write a bunch of "he or she" or "him or her"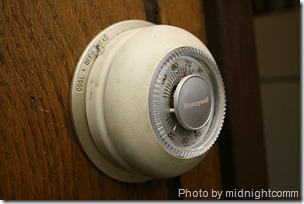 Seth Godin makes an interesting observation in his book Tribes about the key difference between a thermometer and a thermostat and how it's reflected in human nature.  He says that a thermometer is great for identifying when something is broken after the fact while a thermostat does it's best job to regulate temperature to stay in sync with its environment.  Thermostats are leaders while thermometers are just squeaky wheels.
To put it another way:
Thermometers like to criticize once a direction is chosen.  They're always first to notice when something is wrong, but can't take the necessary steps to fix it.  They're the armchair quarterbacks of the world and are great at telling you what you already know.  The thermometer has an ability to lead only in so much as hindsight is 20/20.  They can't plan or adapt to changes.
Thermostats take the temperature of the room first and then put a plan in place to adapt.  They're the leaders and the visionaries, and the people you rely on to stay calm in a crisis and lead you to the next level.  Thermostats are able to work past criticism and negativity and push forward even when the odds are against them.  Thermostats exhibit self-control and stability.
Naturally there are corollaries in the business world but what about for personal growth and achievement?  When I read this I immediately thought about the high-achievers I know and how they approach their lives.  They're all gifted in keeping things in balance and staying in control – events and people don't inject drama into their lives because they don't let them.  They understand the factors at work and adapt accordingly with time to spare.  They aren't prone to wild swings in "temperature".
This description also reminds me of one of my favorite Bruce Lee quotes, which is a key lesson in Zen philosophy: "Notice that the stiffest tree is most easily cracked, while the bamboo or willow survives by bending with the wind."  Thermostats are masters at adaptation.
Thermostats don't like to spend time with thermometers because it's almost always counter-productive for them, making everything harder than it needs to be.  Thermometers hold people back through negativity and second-guessing while thermostats do what needs to be done.  It's all about learning, adjusting, and driving ahead.
So… are you a thermostat or a thermometer?
This post is part of the Introduction to the Flow State series.  Read the first part.
"In the groove", "in the zone", "in the bubble", and "on auto-pilot" are all ways to describe what the Japanese call "muga", and what Dr. Mihaly Csikszentmihalyi (pronounced CHICK-sent-me-high-ee) dubbed "flow" in the 1980s. 

Flow can be defined as a period in time in which one becomes so completely involved in an activity that all other thoughts and emotions – what some consider the "self" – are excluded from consciousness. 
Raise the stakes and improve your skills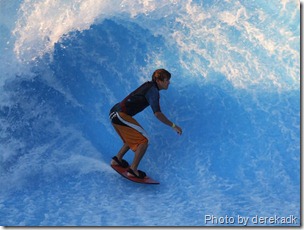 Whatever the immediate activity we're participating in, we need to continually find a way to 1) set clear goals, 2) find ways to measure progress and 3) raise the stakes when we become bored. In order to consistently achieve the flow state, we must continue to increase our skill set as well as the challenge, in order to avoid becoming disinterested, overwhelmed, or apathetic. This means striking a unique balance in which Dr. Csikszentmihalyi and Dr. Susan Jackson label the "C/S Balance" (challenge/skills) in their book "Flow in Sports". The activity needs to be challenging, but not so challenging that it's perceived as an impossibility. As your skill level increases, you'll need to continually increase the level of personal challenge in the activity.
This post is part of the Introduction to the Flow State series.  Read the second part.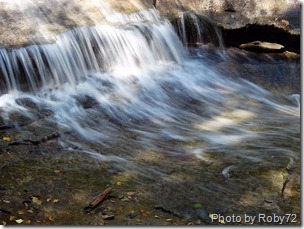 "In the groove", "in the zone", "in the bubble", and "on auto-pilot" are all ways to describe what the Japanese call "muga", and what Dr. Mihaly Csikszentmihalyi (pronounced CHICK-sent-me-high-ee) dubbed "flow" in the 1980s. 
Flow can be defined as a period in time in which one becomes so completely involved in an activity that all other thoughts and emotions – what some consider the "self" – are excluded from consciousness. 
It's during this episode that an athlete or artist is in the much desired yet elusive mental state required to push his or her limits in the quest for peak performance. While most people view flow strictly as an afterthought, there are some who deem it as the sole purpose of any type of activity or training due to the fact that it enhances their awareness, improves their mood, and most importantly, enables them to perform at a level of proficiency they wouldn't otherwise be capable of.
Bruce Lee was an ardent believer in the flow state (he referred to it as wu-hsin, flow's Cantonese counterpart) and stated, "The consciousness of self is the greatest hindrance to the proper execution of all physical action" (Tao of Jeet Kune Do, p7).  He believed that "physical stoppage", or the opposite of wu-hsin, could create many problems for a martial artist, as it would almost always result in hesitation and self-doubt.  It's also said that he planned to use wu-hsin as his alibi should he ever have to legally defend a violent act, by simply stating that he did not do it, "it did it all by itself".