with 3 comments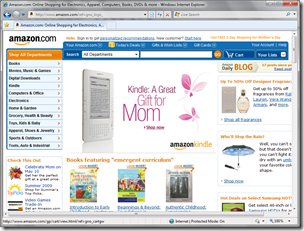 Do you get a rush when you come home with a bag of goodies from your favorite store?  Does your heart start to beat a little faster after clicking "Buy Now" online?
Refocuser is all about life-improvement through appropriate focus.  I'd bet that living in today's economy makes being financially responsible an important goal for just about everybody reading this blog.  And while I'm not always going to go into depth on money tactics, it's worth calling out just one way I've found that works well to curtail spending.
I've discovered that when I would purchase something on impulse, I rarely regretted it (I don't do regret).  But in most cases, had I just waited out the impulse a bit, it likely would have subsided without requiring me to pull out my wallet.  So I started thinking about how to get that feeling of instant gratification without plunking down hard-earned cash.
The trick I've found is to convince myself that I've just purchased something even when I haven't.  The satisfaction I'd get from clicking "Buy Now" is fulfilled without spending any money.  And what I'm really doing is satisfying the urge I have to be a packrat and accumulate stuff – which in many cases is what spurs any impulsive purchasing.  The trick here is that I'm actually accumulating information (for free) about what I'd like to acquire, while not actually acquiring anything tangible at all. 
I think about this as closing an open loop.  When you want something badly enough, your mind sees it as unresolved.  So you tend to dwell on it.  You think about it, mull over it, and beat yourself up until you decide if you're going to act on the impulse.  The key is to "close the loop" as quickly as possible to put your mind at ease.  It just so happens that buying something can close that loop, but there are other ways to convince yourself that you've figured out what to do with something.
Here's how to do it.
For books (and other things on Amazon.com)
Setup a private wishlist on Amazon.com for your eyes only.  You can do this by going to "Your Lists" on the homepage, and then "Create a new Wishlist" in the left-hand column.  Once you've created this list, you can click "Make this list private" in the left-hand column to keep it from being public. 
Instead of using "1-click buy", add things to your new wishlist every time you come across something you want.  Prioritize the list and refer back to it as often as you want.  Bookmark it so you can get back to it easily and look at all the stuff you've packratted away.
When you're actually ready to buy something (i.e. you're out of books to read) refer to this list before you do anything.  Choose an item from the list and then ask yourself if you really need to own it to derive value from it.  I've found that with most books, I just want to read them once, take a bunch of notes, and synthesize the information.  But I just don't need to own them.  Libraries work well.
When you're browsing items in a store and you get the urge to buy something, write it down or take a picture of it with your phone instead.  When you get home, add it to your new wishlist on Amazon.com.  There's a shortcut you can take with the Amazon.com app for the iPhone: you can take a picture of anything in the real world and it will automatically be "remembered" for you the next time you login to Amazon.com!
For movies
If you're a Netflix subscriber, instead of buying a DVD, just add it to your Netflix queue.  Prioritize it wherever you think it should go (and if not at the top, you have to question why you'd be buying it in the first place!)
When you receive the movie, watch it and then determine if you think you'll watch it enough times to pay for itself if you were to buy it.
If you're not a Netflix subscriber, you may want to consider it if you're spending more than $10/mo on DVDs as-is.  The cheapest Netflix plan is still cheaper than buying a DVD every month.
Add items to your Netflix queue on-the-go just like you would do with books or other items.  I use an app called PhoneFlix on the iPhone to do this, but paper works just as well provided you make it a habit to add the DVD to your queue once you get home.
Other options for movies include iTunes rentals, Blockbuster Online, or Xbox Live (which has Netflix streaming video now!)  Follow the same general steps.  And if you don't want to sign-up for Netflix, the Amazon.com process described above works just as well for movies as it does for books and other items!
For music
If you're not into subscription music yet, consider signing up for an unlimited subscription.  This works best if you purchase more than a single album (iTunes, CD, etc.) every month.  Zune is my service of choice based on the selection and the beautiful software (disclaimer: I do work for Microsoft).  With the Zune Pass (the name of the service) I can listen to an unlimited amount of music for less than $15/mo – and get 10 songs/month to keep as well.  It's very, very cost-effective for music lovers.
Download or stream new songs or albums as the impulse hits, knowing you don't have to pay any additional fees to listen to them.
If you don't want to sign up for a subscription music plan, the Amazon.com process described above works just as well for music as it does for books and other items!
You can do a similar thing with audiobooks using an Audible.com subscription, or even newspapers just by writing yourself a note to check out an article online instead of buying the Sunday paper.
They key with this whole trick is to not give into the impulse in the way you normally would.  Instead, you want to acknowledge it and then satisfy the packrat urge without spending another dime.
It's a fun way to allow yourself to focus on what really matters now that you've gotten past the urge to splurge 😉