with one comment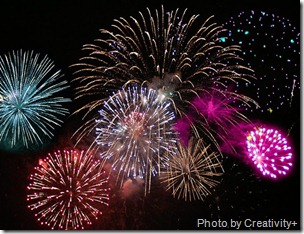 The year is coming to a close in just a few hours, so now feels like a good time to wrap-up with an end of the year post!  Posts like this can help serve as a restart, just like the 1st of the year does for many people.  It's also fun to use this opportunity to talk about interesting stats… and re-introduce some of the forgotten posts from the past year in a single place.  If you're in a hurry, this one entry will give you links to every post on the site so far (below).  It's a great way to catch up on things you may have missed!
This year, Refocuser's first in existence, has been a great one.  After an entire decade of thinking about starting a site like this, I up and decided to just do it one day in early 2009.  A few weeks later, the site soft-launched – and thanks to all the great tools out there like Twitter search, people started to find it within a few minutes!
Writing here really has been a lot more rewarding than I thought it would be.  To get emails, comments, and – in the case of family and friends – phone calls to discuss some of the topics on this blog is the primary reason I wanted to start it to begin with, so that's been a lot of fun.  The site has also given me an outlet to crystallize my thoughts and processes into something (hopefully somewhat) understandable, and to connect with new people who are interested in similar topics.  And then there's the added benefit of writing practice.  What a blast!
Looking forward to 2010, I have a few goals related to Refocuser.  First, I'll be exploring new topic areas & relevant research and will continue to grow the content on the site.  Secondly, I'm going to create a small site dedicated to the 12 Goals program now that the skeleton of the program is finished.  This sub-domain on Refocuser will have the entire program, links to research, a PDF eBook, and other online tools.  Once complete, I'd also like to have discussion forums on Refocuser (provided the traffic justifies it) and even clothing, mugs, mouse pads, and other 12 Goals merchandise to remind you of your ongoing progress.  It'll be a fun project.
We're also due with a baby boy in April – so the total time I'll be able to dedicate to Refocuser will likely decrease for a bit in favor of keeping my head above water with the rest of life.  But hey, there's no better way to test some of these strategies than to use them under tough conditions like sleep deprivation :)  Having another little person join our family is such a gift; I can't wait to meet him!
Stats & Stuff
Refocuser had a busy first year.  A quick look at the Archives page shows that March, the blog's first month, was also its most active with 11 posts.  Throughout the year, I averaged 5 posts/month.  While I'd love to be able to post more often (ideally 2x/week) the time investment and rhythm has felt right this past year, so it's unlikely to change much.  One thing I'm considering for 2010 is accepting some guest posts.  So if you're interested in doing a little writing, please let me know.
In terms of content, the most frequent tags on the site have been habits, goals, happiness, self-talk, visualization, and attention.  And of course, the 12 Goals tag thanks to the burst of posts related to the 12 Goals program recently.  When looking at the category counts, there were 19 posts related to Productivity, 11 related to Goal Setting, and 4 each related to Fear Management and Exercise.  If you'd like to see more of the site's archives to see what else has been covered, head over to the Archives page.
The most popular post (by far, thanks to Leo at Zen Habits) has been 15 Ways to Get a New Habit to Stick Forever.  It has had tens of thousands of page views since it was posted in the Spring, easily eclipsing all other posts on the site.  The second most popular post, found primarily through search engines (Google, Bing, Yahoo) and Twitter is 9 Ways to Stop Overthinking Everything.  People found this post by searching for just about every combination of 'overthinking' with another word!  And finally, the third most popular post, also found through search engines, was a post I wrote in a Starbucks while on vacation in Kauai when I probably should have been at the beach.  That post is Neuroplasticity: Your Brain's Amazing Ability to Form New Habits.
Refocuser has had almost 20,000 non-repeat/unique visitors from all over the world (primarily from the U.S., Australia, Brazil, Canada, and the U.K.), about 300 RSS and email subscribers, and over 400 Twitter followers without resorting to any tricks to artificially increase subscriber count like so many people do.  Naturally I'd love for these numbers to be higher, but I also know that it'll come in time provided I put effort into the writing and stay consistent.  I'm not doing this to have a top 100 blog again, but the more people that can benefit from Refocuser, the happier I am about the work!
(One thing you can do to help get the word out: send a link to this post to your friends and family for the new year!  Or hand pick an entry from the list below that you think someone might like and send it out.  This stuff is only useful if people find and read it.)
Posts from 2009
1st Quarter:
2nd Quarter:
3rd Quarter:
4th Quarter:
Enjoy.  Happy New Year… On to 2010!