with 3 comments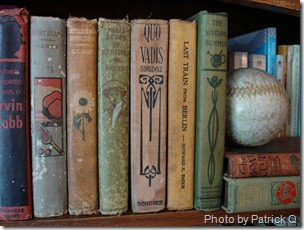 Every year I work to increase my reading output by figuring out unique ways to squeeze more books into my schedule.  It isn't always easy, but I do view reading as a priority given the clear benefits (and joy) of learning and growing as an individual.  Americans in general are reading less every year; the last stat I saw said less than 40% of the population read at least one book last year.  Yikes!  Each year it seems as if our reading behavior becomes more fleeting; more geared towards the mindset of impatience in a world filled with 140 character ramblings.
The hardest part about sitting down to read a book these days is that there are so many other things competing for your attention, almost tricking you into believing you're actually reading.  As an example, on a typical day, I could read 350 Facebook status updates, 75 Twitter updates, 250 emails, and 75 blog posts.  The first two types of "reading" are completely passive – days go by before I learn anything interesting about myself (or others for that matter).  The last one, blogs, are far more useful in that many times full ideas are presented in a clear, coherent manner.  Most of the bloggers I follow have unique and interesting things to say, and I value the time I spend reading their work (and if I don't, I don't follow them). 
But blogging is still what I'd consider "short-form" in that most blog entries are fewer than 5,000 words.  While still far more than the 140 characters of Twitter, they aren't (usually) long enough to form a complete "story" about a topic.  They don't always go into any reasonable depth on the research they cite, and many times they don't do their own research like published authors do.  You just can't always learn as much as you can from a well-written book.  Most importantly, you can't get lost in a blog entry.  It's awfully hard to find any sense of flow while reading a 2,600 word blog post.  And I value flow.
So I read books.  I appreciate the depth.
In years past, I read almost exclusively non-fiction (with the exception of DC Comics) – but this year I expanded a bit back into some fiction as well.  My thinking in the past was that movies were my form of escapist entertainment, and when I'm reading I'd prefer to be learning something.  But like many things in life, I realized that it's not always as black & white as that for me.  There are times (for instance on vacation) when sometimes it's nice to read a little Sci-Fi or a mindless thriller.
Without further adieu…
Personal Growth Books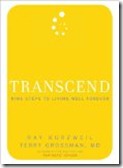 Transcend: Nine Steps to Living Well Forever.  A fascinating look into the world of the future – a world where humans live forever through the use of genetic engineering, nanotechnology, and robotics.  The purpose of the book, however, is to help people get to what the authors call the "first bridge" of life extension through nine targeted recommendations:  Talk with your doctor Relaxation Assessment Nutrition Supplementation Calorie reduction Exercise New technologies Detoxification.  While some of the advice is obvious, other areas of the book can open your eyes to how important living right today can be for your future.  I drink a lot more green tea since finishing this book.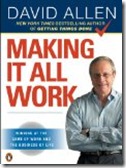 Making It All Work: Winning at the Game of Work and the Business of Life.  David Allen's follow-up to his classic Getting Things Done covers both a helpful recap of GTD as well as a new approach to gain perspective in your life through Allen's "horizons of focus".  These horizons include things like "areas of responsibility", "goals & objectives", "vision" and "principles & purpose".  As you can probably imagine, these kinds of things are interesting to me.  The book stayed relatively high-level (unfortunately) but was still a valuable read.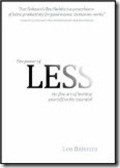 The Power of Less: The Fine Art of Limiting Yourself to the Essential… in Life and Business.  Leo Babauta's book covers similar ground to his popular Zen Habits blog, recommending an overall simplifying approach to your life.  Limit the number of things you focus on at any given time, reduce time spent on email, create positive habits, and make small steps towards your goals.  Leo's book is an easy – yet worthwhile – read.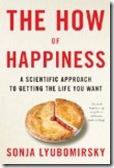 The How of Happiness: A Scientific Approach to Getting the Life You Want.  A research-backed book on increasing happiness, this book covers creative and insightful approaches to improve your life from the ground up.  I found myself taking reams of notes while reading this one because the recommendations made a lot of sense to me.  Things like learning how to deal with stress, committing to goals, and living in the present are all things I believe in (and write about myself).  Strongly recommended reading.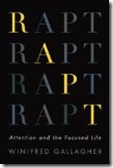 Rapt: Attention and the Focused Life.  "We cannot always be happy, but we can almost always be focused, which is as close as we can get." is just one of many bits of wisdom from this book.  Less about strict "how to" and more as a "just so you know, you can actually do this" type of book, I found a lot of the messages throughout to be pretty empowering.  No surprise I wrote about this book a little while ago.
Fiction Books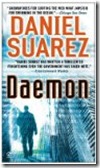 Daemon.  Probably the best cyber-thriller ever written.  As a techie myself, I really appreciated the attention to detail with respect to the "geekery".  And of course, the entire time I found myself thinking "wow, this could really happen!" which kept the pages turning.  A sequel is on its way.  If you care at all about technology and how it could go wrong, this book is for you.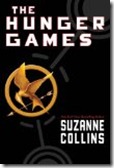 The Hunger Games.  A great "beach read" about a post-apocalyptic world where 24 kids, one from each district, are recruited into a sort-of Survivor game with only one emerging as the victor.  It reads like a screenplay (I wonder why?) and keeps you interested from page one with some fun twists and turns throughout.  A fun and very easy read.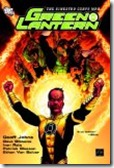 Green Lantern: The Sinestro Corps War.  What comic events should be: a huge universe, crazy evil villains, and an amazing corps of heroes to defend us, drawing from decades of mythology (and beautifully illustrated).  Green Lantern is the DC book that has been setting the tone for the entire DC Comics line since Geoff Johns brought Hal Jordan back.  If you're interested in a wild space war with some of the best art and writing in Sci-Fi, this is it.  I'd start with Green Lantern: Rebirth first though if you haven't already read it.
Business Books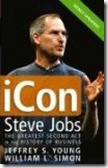 iCon Steve Jobs: The Greatest Second Act in the History of Business.  I realized this book is probably worth reading when Apple removed it from the Apple Store (probably based on its title) around the time it was released.  Any book about Steve Jobs is interesting to me, and this one goes into more depth than others with respect to who he really is and how he's accomplished all he has.  It was published just before the release of the iPhone, so that alone makes it interesting knowing what's to come.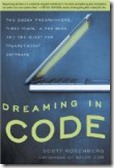 Dreaming in Code: Two Dozen Programmers, Three Years, 4,732 Bugs, and One Quest for Transcendent Software.  One of the "realest" books on software development ever written.  I loved the history of programming and the comparisons made to other projects despite reading this during crunch time for one of my own software projects (this combination led to some sleepless nights).  If you're wondering how the software that makes our world go round is built, there are few books with as close an approximation.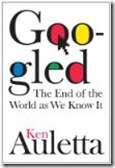 Googled: The End of the World As We Know It.  Zero to $20B in revenue in 400 weeks.  Curious how they did it?  Hint: it wasn't all altruistic genius :)  I've read most of the books on Google, and this one felt the deepest.  Exclusive access to the executive team, partners, board members, and friends probably helped, but Ken Auletta's in-depth analysis and writing style set this one over the top for me.  At times it did focus a little too much on the media companies surrounding Google, but when it was "on", it was awesome.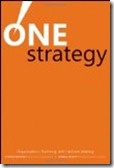 One Strategy: Organization, Planning, and Decision Making.  Based on a series of blog posts written inside Microsoft during the development of Windows 7, Steven Sinofsky and Marco Iansiti describe how to combine strategy and tactics to drive innovation in an organization.  I'll admit – I haven't read this entire book – because I read each and every one of the blog entries (sometimes twice) that comprise it when they were first written.  And I actually lived through it as a member of the Windows organization :)  If you're interested in the handbook for management, this is it.  Speaking as an "insider", the approach in this book works better than anything I've seen.
—
The majority of these books I read on my Kindle so I had the ability to highlight sections and take notes inline.  Now all of my notes and highlights are searchable on the Kindle, they appear on all my devices (phone and PC too), and best of all, they're available online through Amazon.com.  Just by highlighting a sentence I can see if from any device connected to the Internet.  The other night I took the text file of all my notes on the Kindle and added them to my Evernote notebook so they're now centralized with everything else and searchable from a single place.  Love it.
Hope this reading list was helpful!  Please do let me know if you've read – or plan to read – any of these books.