with 7 comments
For as long as I can remember, I've loved to workout alone.  While my first "official" workouts didn't start until my 18th birthday – not coincidentally about 6 weeks after arriving at Cornell as a freshman – I spent a lot of time in my teens messing around with weights in the basement of my childhood home.  We had a beat-up old bench with rusty plates and a few bars to go along with it… and it was heaven.  Some of my best workouts to-date were in that (usually flooded) basement, and they didn't require a Power Rack, a treadmill, or Freemotion cables.
Here I am, many years later, still longing for the same.  They say some things never change.  Over the last few months (and the next few really) I'm piecing together the home gym setup I've been thinking about for almost two decades.  Below is my list.
First, a word about the investment required.  Depending on your bank account and your tolerance for spending, the list below may seem extravagant… or perfectly reasonable when compared to a pricey gym membership.  No matter how you slice it, different people have different priorities and not everyone wants to spend money to improve their overall health, mood, or strength.  You can tell where I fall on that spectrum.
The great thing about having the ability to workout at home is that you have no excuses.  Not a one.  You can get a great workout finished in less than 20 minutes and you don't have to wait for your turn to use any equipment.  You can listen to whatever you want, you can wear whatever you want, and you can be in the shower 10 seconds after your last rep.  The convenience simply can't be beaten.
The list below is based on a few things:
Strength training is critical.  I love running, swimming, and biking as much as the next person (in fact, I may even love them more than the person sitting next to me at this coffee shop) but strength training itself is a 'must-do'.  With just a little strength training you can improve your heart health, sleep better, feel better, lift all sorts of things with ease, and even live longer.  In short: you need to lift in addition to whatever else you're doing.
The must-haves below are optimized for compound multi-joint exercises that will give you the most bang for the buck.  Things like bench press, chin-ups, squats, and lunges.  You don't need much more – everything else on the list is gravy.
Even the must-haves below are presupposing a level of experience and interest that may not be there.  If you really don't know where to start, I'd recommend just getting a Swiss Ball and a medium-weight pair of dumbbells (10-15lbs for women, 20-25lbs for men).  You don't need the things below to get started, and not having the equipment isn't an excuse for doing nothing.
OK, let's get to the list…
The Must-Haves
Folding Gym mat from PerformBetter.  If your room has carpet or hardwoods, you're going to want to protect it from your scuffling feet and any heavy equipment you have.  This lifting mat is one of the best I've found – it's inexpensive, expandable, and easy to place.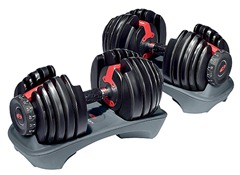 Bowflex SelectTech 552 Dumbbells.  These dumbbells come in two different versions depending on the amount of weight you'd like – 52.5lb or 90lb versions.  For those who haven't worked with adjustable dumbbells, they're perfect for a home gym setup as they take up 1/15th the space of standard dumbbells.  With two dumbbells you can go all the way from 5lbs to 52.5lbs (or 10lbs to 90lbs) just by turning a knob.  I opted for the 52.5lb set on a recommendation from a co-worker since the 90lb model is apparently quite a bit bulkier and harder to use.  Plus I got them for 40% off on Black Friday!  Alternative to the Bowflex set which are the "original" but not quite as elegant in my opinion: PowerBlocks.
Bowflex 5.1 Bench and Dumbbell Stand.  One of the best benches on the market for the price, the 5.1 bench gives you the flexibility to do 17-degree decline all the way to 90-degree incline and has an incredible 30-year warranty.  (My mom got it for me for Christmas just like my first set when I was a kid.)  Alternative to the 5.1 bench: the 3.1 bench which doesn't give you the ability to decline.  Note that technically the stand isn't really a must-have – you could get by without it – but it certainly helps your back when you're lifting the dumbbells.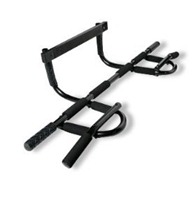 P90x Chin-up Bar.  I know, I know.  First Bowflex and now P90x.  I feel like a fitness sell-out hawking things on infomercials at 2am.  But the truth is that this bar is the best one I've found.  It's the sturdiest (it has a steel frame), it gives you 12 different grip options, and it doesn't require any installation.  You just pop it on your door frame and go.  There are alternatives like the Iron Gym but I don't think they're of the same quality.  Be careful when ordering that you're getting the actual P90x bar from Beach Body and not a bar that's "designed for P90x".
65cm Swiss Ball.  Technically called an exercise ball these days (old habits die hard) this gym staple ranks among the must-haves.  Swiss balls are great for core work as well as functioning as an alternative to the bench for a little variety in your workout.
Jump rope.  Old faithful.  Doesn't take up any room and costs only $10 for a killer cardio workout.  You can't go wrong with a jump rope!
Music! Use whatever you have; an iPod/iPhone or Windows Phone/Zune with headphones or a speaker system in the room.  Music before and during exercise has been shown to dampen the pain response and increase power output.
The Killers – Not Technically Must-Haves, But Close
Versaclimber 108 HP.  The reason this is on the "killers" list and not must-haves is due to cost, but this machine is phenomenal and takes up very little space compared to an elliptical, treadmill, or rowing machine.  10 minutes on a Versaclimber will get your heart pounding out of your chest regardless of how in shape you think you are – it's very, very hard.  It's a true full-body workout and has even been shown (due to the movement itself)
to improve body coordination.
Kettlebell.  As Pavel Tsatsouline, the "father of the Kettlebell", says: when you think of strength, think of kettlebell – and when you think of kettlebell, think of strength.  The kettlebell gives you a fantastic workout once you know what you're doing with it.  Most strong men start with a 44lb kettlebell, and most women start with an 18lb one.  If you've never received training with a kettlebell before, I'd recommend looking up a trainer or, at a minimum, watching Pavel's DVD video before doing anything.
Extra (Optional) Stuff – Worth Having, But Take Your Time
Perfect Pullup Ab Straps for Chin-up Bar.  Use that chin-up bar for targeted ab work like hanging leg lifts.  There are better exercises for your core than these, but given the low additional price, it's nice to have the variety available to you.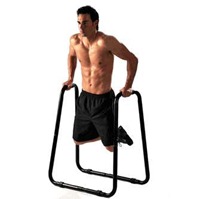 Ultimate Body Press Dip Stand.  Very basic contraption for basic – but important – exercises like chest and tricep dips and bodyweight rows.  The cool thing about the Ultimate Body Press Dip Stand is that it folds right up for storage or travel, so just like most other things on this list, you can keep your 'gym' in a closet when you're not using it.
Push-up Rings + Dip Belt and Resistance Bands for Ultimate Body Press Dip Stand.  Fun add-ons for the dip stand which give you more versatility.  The push-up rings help with bodyweight push-ups and the dip belt helps make your dips even harder.  You can also use the rings with the chin-up bar for bodyweight rows and more!
Xbox 360 with Kinect! I'll accept that this is a strange addition to the list, but I've found that 20 minutes of Kinect with friends (or alone!) is a fantastic workout.  There are two games specifically that I use: Kinect Sports (boxing or track & field) and Your Shape Fitness Evolved.  If you're into competing with friends online or just having something to take your mind off of your workout, the Kinect can't be beaten.  I'm personally looking forward to a realistic Kinect boxing game like Fight Night.  I love boxing… even if it's fake.
Medicine Balls (various weights).  Also great for core exercises, balance, plyometrics, and coordination.  Start with a small ball and buy heavier ones as your strength improves.
Basic Strength Bands with Door Anchor.  Can't go wrong with a good set of strength bands!  This set supports all levels so you can grow into it as you get stronger and strong.  These are also great for travel; I almost never leave home for more than a day without throwing a few of these in my bag.  You can get a great hotel room or beach workout with just these bands.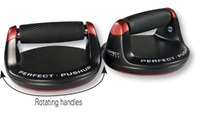 Perfect Pushup. I used the Perfect Pushup at a boutique gym on the Oregon coast over the summer and I've wanted them ever since.  They really do reduce strain on your wrists and shoulders – and after years of pushups and typing, that's something I sorely need.  These are a little pricey for what they are, however.  But I do like them quite a bit more than the alternatives on the market.  I love the grips!
Valeo Dual Ab wheel.  Though you can replicate these core exercises with the Swiss Ball, the wheel itself is good for a little variety.  Be careful though as you'll feel the effects of this for a week!
BOSU Trainer.  The BOSU gives you so many options for balance/core work, you could easily swap it with the Swiss Ball above on the must-have list.  But just given the price, it's relegated to the optional stuff.  I've loved the BOSU for close to 10 years for ab work and for "the best exercise you've never done", the Push-up Plus.
TriggerPoint Grid Foam Roller.   Fantastic for targeted massage to help loosen up your tight muscles.  It seems to have more of an ability to focus in on trigger points than a traditional 'flat' foam roll.  If you're a lifter or runner and you're not foam rolling, you need to be!
Full length mirror.  Enough said.
—-
Now what are you waiting for?  Have fun!
* I'm about halfway through Tim Ferriss' new book, The 4-Hour Body.  While some of his recommendations are a bit extreme, I can't help but recommend the book for the sheer ambition of it.  I've already gleaned some great tips from the book about enabling extraordinary body change (and thanks to Kindle highlighting, I'll never forget them).  Besides, how can you not be intrigued by the sub-title: An Uncommon Guide to Rapid Fat-Loss, Incredible Sex, and Becoming Superhuman.